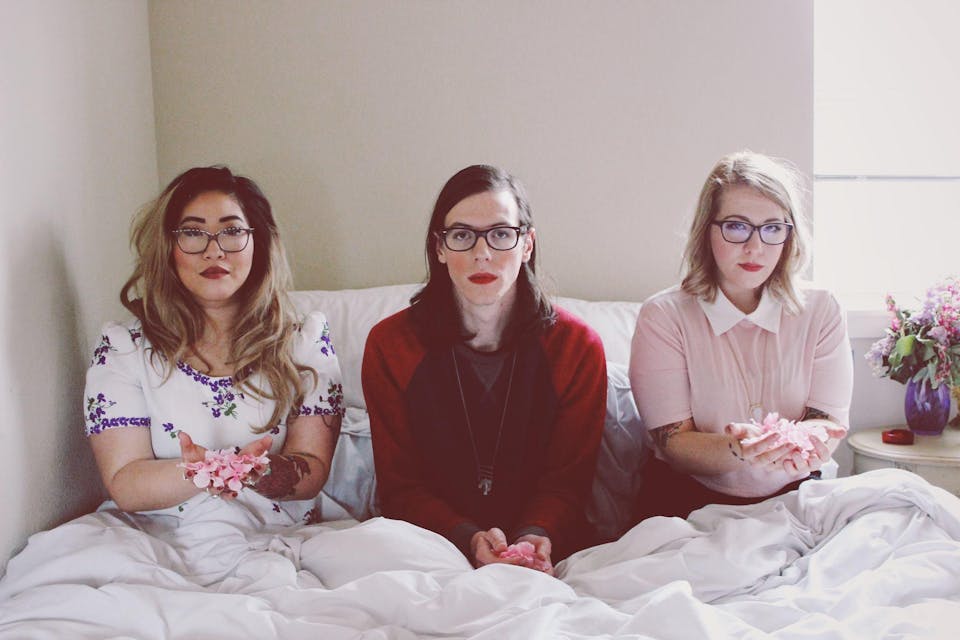 The Milk Blossoms
Those Willows, Nina & The Hold Tight, Felix Fast4ward
The Milk Blossoms at Lost Lake - Friday, September 20th, 2019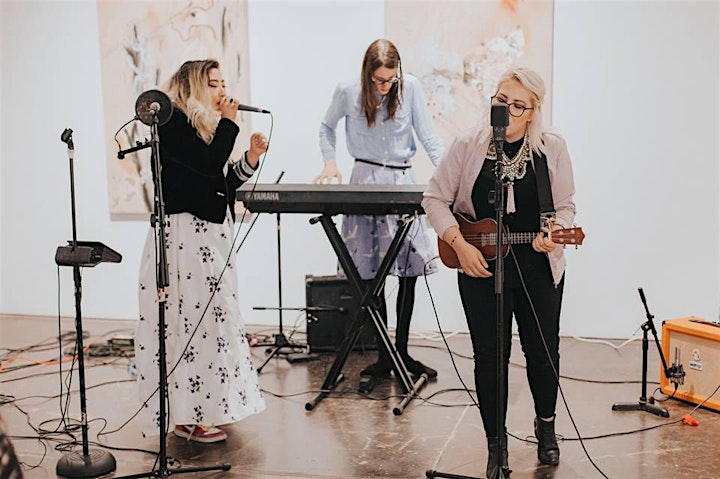 Facebook | Bandcamp | Instagram | Twitter
The Milk Blossoms are an accessible enigma. Their music has all the otherworldly mysteriousness of a fairy tale and the intimate quality of a poetic diary adorned with doodles and glittery stickers to commemorate an especially poignantly captured chapter in one's personal biography. Ferociously gentle, dream pop and hip-hop, mystic chants of psychological self-healing, the trio is impossible to place into a definitive musical taxonomy yet easy to connect with immediately.
The group emerged from Denver's rich DIY music scene since Harmony and Michelle moved into a now defunct house show/art space called TeaHaus to attend school at CU Denver where they met Blair. Initially the trio regularly swapped instruments resulting in an eclectic yet coherent sound that depends more on imaginative incorporation of elements rather than classical technical prowess. Step forward a few years and The Milk Blossoms have, for now, settled into their various roles in manifesting the music with that spirit of experimentation going into the way the band crafts its songs.
In chronicling their lives and their musical development, The Milk Blossoms have released into the world two innovative records, 2015's Worrier and 2018's Dry Heave the Heavenly. Both are like snapshots of daydreams, snippets of memories relived, strands of what could bes and would could have beens and inside jokes having taken on a more universal meaning collaged into a heartfelt listening experience. Maybe the music has come out of a rustic futurism imagined by introverts but it has a powerful resonance for anyone willing to open themselves up to a personal vision of life's possibilities when you realize that vulnerability is a greater strength in life than toughness. ---Tom Murphy
They have been lucky to share the stage with acts including Ezra Furman and the Visions, Cocorosie, Emily Wells, Advance Base, and Jessica Lea Mayfield.
They have been featured on Colorado Public Radio Open Air, Radio 1190, Film on the Rocks and Colorado Public Television's Sounds on 29th.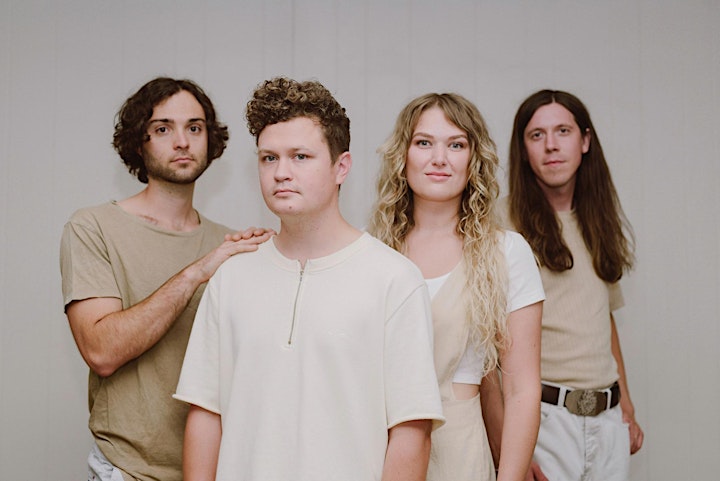 Facebook | Website | Twitter | Instagram
Those Willows are a 5 piece Indie band based out of Portland, Oregon with harmony-driven, pop-centric song-writing that keeps you moving every step of the way. In their ten years of making music together, lead singers Jack and Mel Wells have had four album releases, numerous tours around the US, and songs appearing on MTV, VH1 and Bravo.
Facebook | Instagram | Twitter | Soundcloud | Bandcamp
Nina and The Hold Tight is a five-piece band hailing from Colorado. Lead by powerhouse singer-songwriter, Nina de Freitas, Nina and The Hold Tight began as de Freitas' solo project and gained steam with the release of de Freitas' 2017 EP, Spinning Towards the Edge. After a year of playing shows throughout their home state, the outfit made their debut as Nina and The Hold Tight with their submission to the 2018 NPR Tiny Desk Contest which resulted in a feature on the All Songs Considered blog.
Since then, the group, (de Freitas, Steven De La Roche, Jarrod Gipson, Drew Greer and Nico Perez) has played many more shows including a critically-hailed main stage set at Denver's 2018 Underground Music Showcase. Alex Kramer of 303 Magazine wrote of the band's live set, "Through music, The Hold Tight supplies an inexplicable excitement and devotion that carries itself through your whole being."
With energetic and emotional songs, Nina and The Hold Tight aim to elevate their listeners to a new level of feeling with every passionate note they play.
Nina and The Hold Tight will release their first single on November 16, 2018 and have plans to record an EP in 2019.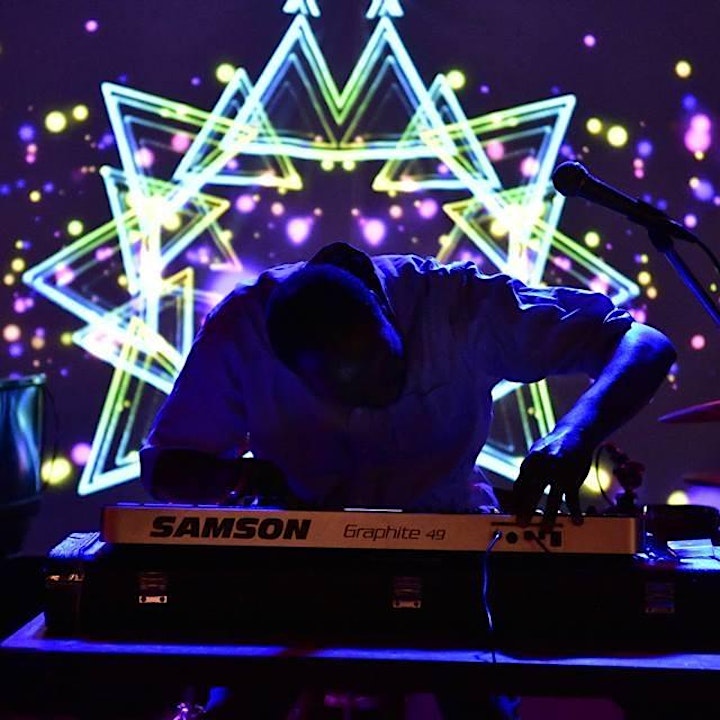 Facebook | Website | Soundcloud | Instagram

Felix Ayodele aka Felix Fast4ward Born in Evanston, Illinois March 12th 1982. Moving to Houston,TX in the early 90's the Illinois native began to displayed an interest in art and music, after seeing "The 1998 Technics DMC US Finals" on vhs. He began putting together "battle routines" he developed & competed using vinyl scratching and unique composition techniques. With records handed down to him from his parents (who both Immigrated to the U.S. from Nigerian) he was indirectly furnished with a wealth of music education, these records would be cleverly injected into his creation process. The records & people that were around him would also influence the traditional musician within, from prog-rock records ranging from Yes, King Crimson, Camel to Afrobeat Music: Sunny Ade, Fela Kuti down to jazz hero's from Sun-Ra to Ornette Coleman, all serendipitously creating a recipe for the modern producer/musician.

Venue Information:
Lost Lake
3602 E. Colfax Ave
Denver, CO, 80206